Rules of the Road DVD Review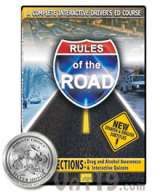 High-quality drivers ed DVD
Rules of the Road is a well-rounded interactive driver's education DVD. You'll learn how to go from practicing in a parking lot all the way to driving on the highway. There's even a section on car maintenance, which you don't see on many driver's education DVDs, but is essential information for any driver to learn and know.
Covers a wide array of topics
Sections include: The Basics (setting your mirrors, parking), City Driving (following distances, intersections), Highway Driving (merging, passing), Safety Tips (driving distractions, defensive driving), Hazardous Weather (driving in rain, snow, and fog), Driver's Exam (parallel parking, parking on hills), Drugs & Alcohol (consequences, true stories), and Basic Maintenance (changing a tire, jumpstart a dead battery).
Additional features include 3-D animations that show multiple views, interactive practice quizzes, and Spanish subtitles. The practice multiple choice and road sign identification quizzes will help you pass the written part of the driving exam.
Virtual Driver feature
Rules of the Road has a lot going for it, but one of our favorite aspects is the "Virtual Driver" feature. It puts you in the driver's seat and test your awareness by presenting quiz questions at random intervals. For instance, you'll be driving down a medium-traffic city street and suddenly the footage will stop and the narrator will ask what the car in your rearview mirror is doing. This feature is excellent in reinforcing scanning skills.
Additional Bonus Features
The Rules of the Road is packed with interactive bonus features. There are numerous interactive quizzes for preparing for the written DMV test (including an interactive road sign test). It also includes an index of all of the 3D animations so that you can quickly jump to the parallel parking animation, for instance. Rules of the Road uses 3D to quite the advantage by showing complex maneuvers from above as well as from the driver's point of view.
Other bonus sections include a section on car maintenance as well as drug and alcohol awareness.
Our Assessment
Rules of the Road is a first-class driver's ed DVD. Any teenager learning to drive can benefit from watching this program. While Rules of the Road might not earn "cool points" for the actors' clothing (the outfits look a little outdated), the information is thorough and the footage is high quality.
Running time: 105 minutes
Trailer:
Pros:
You can watch the DVD on your TV or computer.
The program is affordably priced at $34.95.
3-D animations give a bird's eye view of maneuvers such as parallel parking and intersections.
Cons:
The quizzes are only available in English.
The clothing and dialog may appear a little "dorky" to your teen.
Bottom line: This DVD is highly recommended. Solid information, good production values, and nifty features.
Price: $34.95
Available from: